Join The Leaders
with Leaders Club
---

"If your actions inspire others to dream more,
learn more, do more and become more,
you are a leader."
- John Quincy Adams
To lead with honesty and integrity in the hype-filled and greedy world of home businesses can be a significant challenge.
Leaders Club, a division of Target Media Group, Inc., is a full service direct marketing firm that does exactly that. Dedicated to helping home businesses and small businesses learn to compete effectively, Leaders Club has been an industry icon for over 10 years.
You're in for a pleasant surprise. We were immediately impressed by the professional and straightforward approach of Leaders Club. No hype, no false promises, and real facts about what it takes to succeed in a home business.
Everyday people all over the world are getting started on the road to financial freedom offered through a legitimate home business. Then, once there business hits home, so does reality. So many people are introduced to the promise of fast cash and automated systems that will do the work, etc.
Think about it – Doctors, Lawyers, and other professionals spend as much as 10 years learning and training to earn an income of over $100,000 per year. A home business is no different – it takes the same degree of persistence with lots of education and proper training.
Leaders Club offers the elements required for success: Leads, Training, Support, a Team, a System - no matter what product or service you promote.
Since 1994 top leaders from over 200 companies have come to rely on Leaders Club for top quality leads and market tested advice on building a healthy business. Many of these leaders have credited Leaders Club services for their ability to reach beyond six-figures in personal income.
The training resources available at Leader Club are simply astounding – over 200 hours of audio, hundreds of articles, and several accelerated training programs – all professionally archived in an easy and intuitive system. But most impressive is their Individualized Success Plan – a comprehensive and personalized training plan specifically tailored for each subscriber. A self-paced Training Plan that:
- Fits Your Schedule
- Fits Your Personality and Learning Style
- Fits Your Timeline
Click here to learn more about the
Leaders Club
Individualized Success Plan
_________________________________________________________
Another aspect of Leaders Club that impressed us is their confidence. They are so confident in their program – they offer a 30 Day Money Back Guarantee and have done so since 1994.
Leaders Club also offers a variety of subscription options to meet various objectives and budgets.
Everyone seeks out training - or should be - but no one in this industry offers what we have seen from Leaders Club.
-- Lucrative and Fair Compensation
-- Stable Growing Company with a Proven Track Record
-- High Integrity Professional Position
-- Respected and Proven Leader in the Industry
-- A Niche Market of 1.3+ Million
-- No Hype, Just Solid Nuts 'n Bolts
-- Leadership by Example and with Action
-- Start Part-time without Jeopardizing a Full-Time Job
-- Proven Comprehensive Accelerated Training Program and Action Plan
-- "Hands-on" and Practical Support System
-- Marketing Consultant Certification Program (Professional Achievement)
-- Receive Awards, Recognition, and Earn Cash Bonuses
-- Unlimited Earning Potential with a Lucrative Long Term Residual Income
-- No Territory Restrictions
-- Practical How-To Strategies (with Documented Success)
-- Leadership Opportunities for Advancement
-- Build Up to a Full-Time Career You Can Be Proud Of!
Request our CD below, and begin your journey to discovering what it really takes to succeed!
If you cannot wait for the CD then click below for a powerful presentation on what Leaders Club has to offer.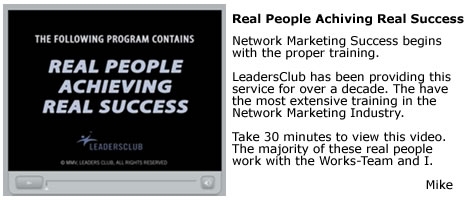 _________________________________________________________
There is also an organization within Leaders Club called the "Works Team". They only accept highly motivated and qualified individuals who are serious about succeeding in a home business. They clearly know what they're doing as demonstrated by the following:
- 60% of Leaders Club Certified Marketing Consultants are from the "Works Team"
- Over 50% of the "Top Sponsors" in Leaders Club are in the "Works Team"
- Methodical, step-by-step system to build a professional foundation for your business

If you are a motivated and teachable individual, you may be the type of person that the "Works Team" is willing to invest our time and energy into.
With a 30-day Money Back Guarantee, there is nothing for you to lose. We will show you how to succeed and help guide you on the path to Personal Independence.
Click here to get started TODAY!
For a personal, no-obligation consultation with a "Works Team" professional, call 208-587-0646 or fill out our
On-Line Contact Form
.
_________________________________________________________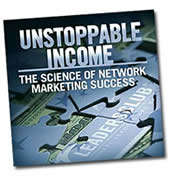 Thousands now succeed in Network Marketing with Leaders Club...
Thanks to the proven strategies
revealed on this CD.
....and we want to give you a copy free!
Find Out What Leaders Club Can Do For You:
Click Here For Your Free Training CD
_______________________________________________________
¦About Us¦Contact Us¦Our Partners¦
¦Site Map¦Links¦Home Business Consultants¦

© Copyright 2005. Home-Business-Expert.com