Home Business Facts
---
The Truth About
Starting a Home Based Business
The only real question to ask yourself is this:
What are the consequences of being wrong about your assumptions?
We must focus on how serious the consequences could be if they turn out to be wrong.
Many people assume that the best way to financial security is by finding a good job, with good benefits, and then working hard. Many people are wrong.
As an F-16 fighter pilot, I decided a long time ago to make decisions based on research and business facts. Unfortunately, it is very hard to find "facts" in the world today. If you are at all like me, you want to make your own decisions based on documented research – not on somebody's opinion, hype, and promises – especially someone who assumes they have earned your trust.
And here are the Business Facts:
(Sources are documented with italics)
Working For Money in a Job
13 Million American workers are laid-off every year. That's 9% of the entire work force. (The Brookings Institution)
75% of involuntary retirements are from downsizing or ill health. (Money Magazine, Oct 2005)
Average annual raise is 3.4%. Average annual inflation is 3.5%!! (Money Magazine)
Only 13% of working Americans have an "adequate" retirement nest egg (Ohio State University)
The typical 67 year old American has less than a 40% chance of breaking even on Social Security - of getting back the money they paid into the system. And the government knows that. (Social Security Administration)
Earning Money in a Business
Average net worth of self-employed business people is Six Times more than that of employees (Federal Reserve Board)
Self-employed people are substantially more satisfied than those who labor for someone else (University of Zurich study of 23 countries)
Having a guaranteed income and staying active make for happier retirement than just having more money (Money Magazine)
A Side-by-Side Comparison
Employees

Average net worth is $225,000


Average net worth has risen 13% in last decade

Business Owners

Average net worth is $1.3 Million - Six Times that of an Employee
Average net worth has risen 68% in the last decade - Five Times the rate of an Employee
And One Last Thing...
There are Two Tax Systems in America
1) For Those Who Have a Job
Under this system, your income is taxed first. Then you can pay your expenses with what's left over.
2) For Those Who Have a Business
Under this system, your income is NOT taxed first. You get to pay your expenses first and then you get taxed on what's left over.
The Difference is Significant. Literally, thousands of dollars a year. This business fact alone is why starting a home business is 16.5 times more efficient than taking a job. Want Proof? Review our Home Based Business Tax Deduction Illustration - A side-by-side comparison of Taking A Job vs. Starting a Home Business.
Want some more business facts on starting a home based business?
Here are some more resources to continue your research:
Some Surprising Small Business Retirement Plan Facts
Why An Individual Pension Plan Won't Go As Far As You Think
Why Stock Market CrashWill Happen - And You Won't Care
Why US Government Social Security Will Go Bankrupt
_________________________________________________________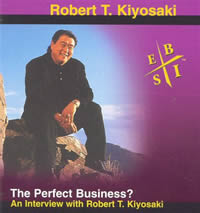 "Money is important, but I don't
want to spend my life working for it."
-Quote from Rich Dad's CASHFLOW Quadrant
The Perfect Business CD is a 25 minute
audio interview that introduces you to
Robert Kiyosaki and Business Facts on
The Perfect Business.
...and We Want To Give You A Copy Free
Click Here For Your Free Perfect Business CD:
The Business Facts That Others Are Afraid to Reveal
_________________________________________________________
¦ About Us ¦ Contact Us ¦ Our Partners ¦
¦ Site Map ¦ Links ¦ Home Business Consultants ¦

© Copyright 2005. Home-Business-Expert.com