Top Ten Marketing Mistake Report
---
This Top Ten Marketing Mistake Report outlines the common reasons so many businesses fail – they don't know how to market their product.
According to Dunn and Bradstreet – 60,000 businesses failed last year in the United States. Many people look for the exotic or complicated to solve their business problems. In reality, all they need to do is simply apply the basics. Here they are.
#1) Focus on the Business and Not the Prospect.
Number one in the Top Ten Marketing Mistake list is: "Institutional Advertising". This is the self-centered approach that most businesses take. They advertise how great their company is, how long they've been in business, how "professional" they are, etc.
There's one basic problem to this approach – NOBODY CARES about your company! Your prospects and customers care about only one thing – "What's In It For Me (WIIFM)?" They are all tuned in to that same radio station – WIIFM. "Institutional Advertising" can be effective AFTER you tune into that frequency – not before.
#2) No Target Market or Niche.
It is a top ten marketing mistake to not have a product that matches your target market. There are three questions you must ask yourself when starting a business:
- What are you selling?
- What are people in your market buying?
- Do these two answers match?
You would be surprised how many businesses have mis-matched answers to those questions. Most business owners/entrepreneurs have a great idea for a product or service and then attempt to "force" it on the market. It doesn't work that way. It is better to determine what people are looking for first, and then develop a product to match that need.
If you can match what you are selling to what people are buying, you will be light years ahead of your competition. A successful business markets with a sniper rifle, not with a shotgun. Many businesses make the fatal mistake of believing everyone is their target market. You must know the WHO of your market before you can find out the WHY. And you must know WHY your customers will buy before you can posture your business as their solution.
#3) Don't Capture Contact Information
Failure to attract repeat customers is another top ten marketing mistake. Repeat customers are the key to business success. Everything in marketing process has one ultimate goal: get customers to come back. It costs Five Times more to bring in a new customer than to keep a current one.
People buy first from those they know. People buy second from those they like and trust. Successful businesses contact their customers at least once every 21 days. They provide enticing offers that generate repeat sales – special discounts, tips, newsletters, etc. Failure to do this is a top ten marketing mistake.
#4) Don't Back-End or Up-Sell
An "up-sell" is adding related products or services when a customer buys. A "back-end" sale is offering a related product after the customer buys. Once again, business success is derived from repeat sales. Therefore, a successful business constantly offers solutions to its customers with related products or services.
#5) Don't Make Business Convenient, Easy, and Appealing
This top ten marketing mistake addresses how well you will be prepared to deliver your product. You need to be ready to sell when your customer is ready to buy. If you are not, they will go to someone else who is.
#6) Not Persistent
80% of sales are made after five exposures to the product. When a person sees your name in print 5 times, they will think they know you – even if you've never met. Most business owners drop prospective customers too easily and too quickly – it is a top ten marketing mistake.
Successful businesses contact their prospects at least seven times over an 18 month time frame. Just because you don't get a response from your prospects does not mean they are not interested. Many times "life gets in the way". They may be busy or not ready to buy right now. That does not mean they will never buy. Most give up too easily and it's a top ten marketing mistake.
#7) Have No Written Marketing Plan
The "Seat of the Pants" marketing approach that many businesses employ is another top ten marketing mistake. It is simply not effective. A business will not achieve large-scale success without a Written Marketing Plan.
That Marketing Plan should have:
- Specific dollar objectives for each product by a monthly and yearly forecast.
- Marketing Techniques / Methodologies and why they will work
- Contact Management and Follow-up System / Techniques
- System / Techniques to Back-end or Up-Sell
Don't forget to evaluate and update your plan – weekly, monthly, quarterly, and annually.
#8) Poor Marketing Material.
A large majority of business owners have no idea how to write ad copy. If you have no idea about how a car works you can still know that you have a problem with it. And you don't just pop open the hood and start "fixing" it. Many business owners do exactly that with their marketing material. Even worse, many "know" how to write ad copy, when they really have no clue.
"The greatest hindrance to progress is not ignorance,
but the illusion of knowledge."
On the flip side is the mentality that says "if it ain't broke, why fix it". It is a tope ten marketing mistake to wait until something is broken before fixing it. How about the idea of preventive maintenance? A small amount of effort and attention periodically will cause significantly less frustration and money than waiting for a complete breakdown.
Here are the Common Marketing Material Mistakes:
- Seller Focused – not Focused on the Prospect. If you don't know what they're looking for, then you will not know how to posture your business as a solution.
- Assumes the Prospect is Interested
- Boring
- Feature-Based: No BENEFITS
- Does Not Instill Desire in the Prospect
- Does Not Ask for a Specific Action
- Doesn't tune in to the WIIFM Radio Station
- Tries to be Clever or Funny. Clever DOES NOT sell - by itself. People buy only when your product matches their solution image. "Clever" techniques are very effective when used to posture your message. They are completely useless when they are the message.
- Tries to reflect a Professional Image. This is not enough by itself. Being a professional is simply a prerequisite, or foundation. You must offer a solution that matches what the prospect is looking for.
The sole marketing objective of successful businesses is to ALWAYS tune into the prospect's radio station: WIIFM. Initially, you will have no idea what the frequency of that station is and it's different for each prospect. However, once you've tuned into that frequency, the message goes through loud and clear. Otherwise, it's nothing but static. Once you've tuned in, then you can deliver the message, but not before.
To learn how to write effective ad copy, check out the awesome resource at Leaders Club
#9) "Me Too" Marketing
Many businesses that ultimately fail never develop a Unique Selling Proposition (USP). They never brand themselves. You must differentiate yourself from the competition – in the prospect's mind, not yours. You must do something bigger, better, or different.
Successful business owners realize they are not sales people - they are educators and solution providers. They don't sell – they solve problems. They have found a specific and unique solution to those problems. Some examples for a USP: Lowest mark-up, great service, on-hand inventory (never out of stock), overhead, convenience, more of something.
You must have a "More" or a "Better" than your competition. And don't make the fatal mistake of believing you do not have competition. Your competition may be simple ignorance about your product, but you always have competition.
#10) Don't Apply ALL of These Principles
A Marketing Plan is just like a puzzle. A top ten marketing mistake is to not use all the pieces. You have to consolidate the pieces and figure out how they fit together. Without all of them, the puzzle is not complete. Successful business owners constantly asses their marketing efforts and apply all of the above principles.
Knowing is not enough; we must apply.
Willing is not enough; we must do.
Johann Wolfgang Von Goethe (German playwright)
Request the FREE Home Business Success Pack to learn how to avoid the items in the top ten marketing mistake list.
Click here to return to
Small Business Marketing Plan
Avoid the Top Ten Marketing Mistake Issues
_________________________________________________________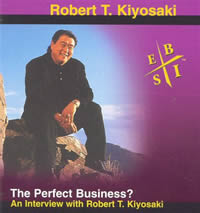 "Money is important, but I don't
want to spend my life working for it."
-Quote from Rich Dad's CASHFLOW Quadrant
The Perfect Business CD is a 25 minute
audio interview that introduces you to
Robert Kiyosaki and his philosophy on
The Perfect Business.
...and We Want To Give You A Copy Free
Click Here For Your Free Perfect Business CD
Avoid Problems in the Top Ten Marketing Mistake List
_________________________________________________________
¦ About Us ¦ Contact Us ¦ Our Partners ¦
¦ Site Map ¦ Links ¦ Home Business Consultants ¦

© Copyright 2005. Home-Business-Expert.com