Network Marketing and MLM
Book List
---
Here are some of the best MLM Book choices out there today. Get your network marketing business off on the right foot.
#1) Get Rich Slow: Build a Firm Financial Foundation--A Dollar at a Time
by Tama McAleese


A no-nonsense and straightforward book. If you are under the age of 25 or if you're starting a home business – then you must read this book. If you're over 25 or you've started a business – you will kick yourself chapter after chapter - but start reading now before the nights grow even longer. The best financial advice I've ever received, aside from the Financial Freedom Society's program. "The right information is even more valuable than money itself..."




The Greatest Networker in the World
by John Milton Fogg

A motivating and inspiring read. A great "picker-upper" when things are not going well in my MLM undertakings. However, this is not just a book to merely cajole a networker who's losing interest or not succeeding quite enough. This MLM book has helped me more with only one chapter than three to five full network marketing books that I've read. If it won't help you in your MLM career, it will definitely help you as a person. Highly recommended!




The Business School for People Who Like Helping People
by Robert Kiyosaki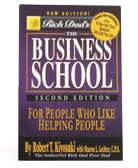 Network Marketing is a "real life business school". Nowhere else can someone with no experience and little investment have the realistic potential for unlimited income. It doesn't happen over night. This MLM book goes through the real-world principles and fundamentals that will lead to success in a network marketing home based business.
....



Your First Year in Network Marketing: Overcome Your Fears, Experience Success, and Achieve Your Dreams!
by Mark Yarnell and Rene Reid Yarnell


This MLM book is a must-read for anyone starting a network marketing business. The authors created this book based on their years of experience and astounding success in MLM. Their organization is world famous and produces millions of dollars per year. They present everything here you could possibly dream of when starting a home business in network marketing. It presents an in-depth look at sales, recruiting, training, goal setting, and of course, succeeding.




Inside Network Marketing: An Expert's View into the Hidden Truths and Exploited Myths of America's Most Misunderstood Industry
by Leonard W. Clements


Straightforward, down to earth, and free of hype – a definite rarity today in the network marketing industry. The first half of this MLM book tells the cold hard truth of the industry – it will almost make you not want to start. But, when the second half tells you what you can do with it, you'll be itching to start. An excellent reference whether you are already a network marketer or are just researching the industry.




The New Professionals: The Rise of Network Marketing As the Next Major Profession
by James W. Robinson

The author presents statistical research that shows why network marketing is a robust and very efficient model for introducing some products into the market place. And, they show why the type of person involved in network marketing today is truly a professional. A great book for those who are new or thinking about network marketing.


Click here to return to:
Home Business Book Shop:
More MLM Book Selections
_______________________________________________________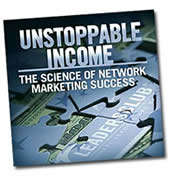 Thousands now succeed in Network Marketing who never thought they could...
Thanks to the proven strategies
revealed on this CD.
....and we want to give you a copy free!
Click Here For Your Free Training CD:
Better Than an MLM Book
_______________________________________________________
¦About Us¦Contact Us¦Our Partners¦
¦Site Map¦Links¦Home Business Consultants¦

© Copyright 2005. Home-Business-Expert.com